Mark your calendars!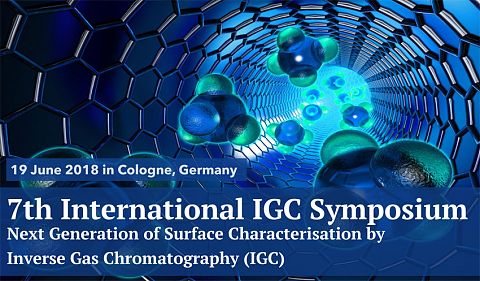 Programme
Surface and substance properties are crucial for many chemical products and applications, but advanced methods are often not known and their use seems difficult.

This symposium showcases experts who all use dynamic sorption methods also known as inverse gas and liquid chromatography (IGC, ILC) - very powerful, but not yet so well-known techniques. 

The program will present the latest, most up-to-date knowledge and experience on surface characterisation of powders and fibres. Good practices as well as critical aspects and supporting techniques will be outlined and discussed.

The one-day program is compact and ideally suited for industry representatives from R&D, product development and analytical departments as well as researchers from institutes.
The location in Cologne is nicely situated beside the Rhine. The pre-conference dinner and Cologne-tour is a great networking occasion. 
Call for Speakers 2018
We are looking for IGC or ILC experiences - to present, to share and to discuss with others! If you have any kind of experience, please write a short email to: ralf.duempelmann@inolytix.com

A brief description should contain: type of application, experimental setup, special learnings or insights and some arguments, why your experience could be interesting to others.

Please consider the deadline: 15.03.2018
Many thanks in advance by all participants and the organisers!

Key Topics 2018
"Next generation?" Revolutionary new techniques in automated dosing of gaseous and liquid probes - and their potential
Industrial use of IGC: hands-on examples by industry
Hansen Solubility Parameter: practical applications using IGC
Material characterisation: Use of IGC and supplementary tools
Innovative uses of IGC: novel practices

Last year's speakers and participants were from:
BASF, Kronos, Solvay, Schott, DSM, Bayer, Clariant, Pfize, Fraunhofer and different universities and institutes
Information
When:
19 June 2018
9:30 - 17:00 7th Int. IGC Symposium
Optional:
18 June 2018
19:00 - 22:00 Cologne tour and dinner
 
19 June 2018
8:30 - 9:30 Introduction in IGC
 
Where:
art'otel, Cologne, Germany
Further details and registration: www.inverse-chromatography.com


Organisers: